Sunshine Venicia – a super luxury apartment project in District 2, HCM City – will be introduced to the market this April. The top-of-the-line residential project, developed by Sunshine Group, provides a unique design that gives 100 percent of the apartments six to 12 light-receiving surfaces.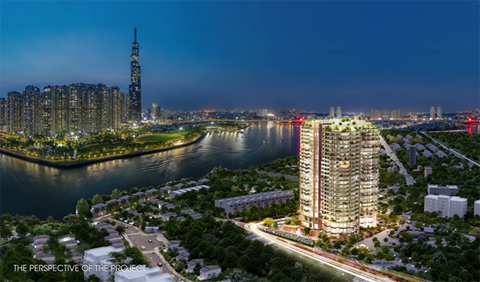 Located in Bình An ward, right next to Thu Thiem new urban area, home to million-dollar villas, which is known as 'billionaires town' under the cover of vast green space and with a well-developed infrastructure network.
In recent times, Bình An has been a popular pick among wealthy businessmen to be their home, thanks to its prestigious community which is among the best in the city. The upscale neighborhood, situated next to the Sài Gòn River, facing Landmark 81 and Vinhomes Central Park, boasts fresh air, well-planned roads, and sparse population density compared to the city's other busy districts.
Sunshine Venicia offers to the market 245 units, from 1-4 bedroom and sky villas. The developer Sunshine Group believes the limited availability in combination with premium pricing is important to establish the project's position as a high-class residence and ensure the residents are among elite members of society.
Sunshine Venicia's unique design was inspired by the fluer-de-lis, a symbolic flower of Italy, with the common area at the central core and function buildings in a petal formation. The design allows all of its buildings to be surrounded by green, lush gardens.
A far cry from massive concrete designs seen abundantly in other projects, Sunshine Venicia's halls were built to resemble small, alley streets flanked by gardens and art galleries, a truly one-of-a-kind arrangement in the city.
Residents' privacy is the project's top priority. Each residential unit has its own pathway leading to the door through a beautiful garden. To achieve this goal, a three-bedroom unit at Sunshine Venecia is surrounded by three gardens or more, a new record even among the luxurious segment of the market.
There are no more than a few apartments on each floor at Sunshine Venicia, with some floors housing just two apartments, each with its own private elevators.
"Many developers choose to maximize the number of apartments on each floor. The consequence is that many of them have very few light-receiving surfaces. That is not our way of thinking of Sunshine Venicia," said a representative from Sunshine Group.
"Sunshine Venicia's design is unique in the Southeast Asia region and Viet Nam," said Hoang Thy Phong, an architect specializing in luxurious apartment buildings.
Phong said the majority of residential projects in HCM City like to highlight the number of services offered to customers. However, what truly sets the luxurious projects apart from the rest is the architectural design that can deliver fresh experiences to customers.
Sunshine Venicia is an inspiration of beautiful Italy from its lemon gardens, grapevines, Renaissance-style water fountains to its slightly curved charming small alleys decorated with rose pedestals.
The ground floor is home to various boutique tea shops, spas, and restaurants under the main lobby's European-styled arch and art galleries. Notably, the whole project is shielded by anti-UV glass and powered by 4.0 technologies as well as interiors and equipment that are mostly imported from Europe.
In recent days, the news that Sunshine App, a super-app with full of "all in one" features is coming soon has become a hot topic for discussions among investors as well as the real estate market in Vietnam. This is a super application connecting the Sunshine Group Investor with its residents,...
Once completed, Solforest Ecopark outside of Hanoi will feature one of the tallest vertical gardens in the world.
Reflecting the breath of modern architecture, the Sunshine Diamond River project uses 100% of Low E glass for its surfaces. Compared with normal box glass, Low E glass has many preeminent features as well as superior quality and aesthetics in the segment for luxury housing.